On September 16, 2021, the State Bank of Vietnam (SBV) approved in writing to increase the charter capital of Vietnam Prosperity Commercial Joint Stock Bank (VPBank, HOSE: VPB) by a maximum of nearly VND 19,758 billion.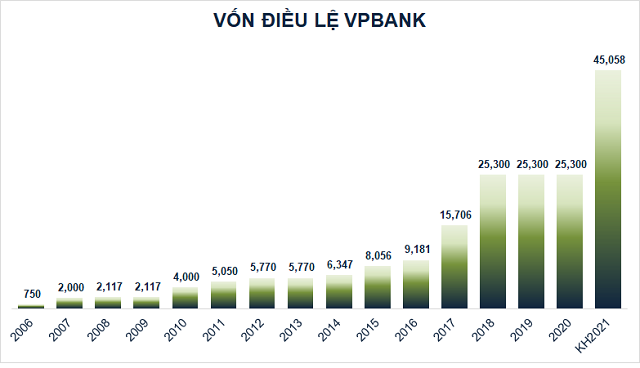 Specifically, VPBank was approved to increase its charter capital by a maximum of nearly VND 19,758 in the form of issuing shares to pay dividends from undistributed profits and issuing shares to increase charter capital from the Investment and Development Fund. and the Reserve Fund to supplement charter capital approved by VPBank's General Meeting of Shareholders.
According to the plan, VPBank will issue a maximum of nearly 1.98 billion shares to shareholders, the issuance rate will account for 80% of the total number of outstanding shares at the time of closing. The total value of issuance at maximum par value is nearly 19,758 billion VND.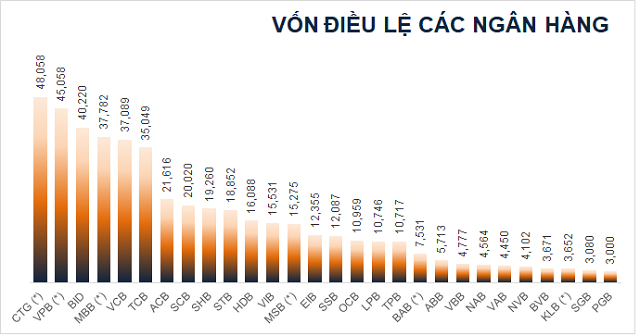 In which, the rate of issuing shares to pay dividends is 62.15%, which means that shareholders owning 10,000 common shares will receive an additional 6,215 new shares, equivalent to 1.23 billion shares issued to pay dividends.
The rate of bonus shares issuance is 17.85%, which means that shareholders owning 10,000 shares will receive 1,785 new shares, equivalent to 747.84 million bonus shares.
After completing the issuance, VPBank's charter capital will increase from nearly VND 25,300 billion to VND 45,058 billion.
VPBank expects the implementation time to be in the third and/or fourth quarter of this year.
The purpose of increasing share issuance is to increase charter capital, improve business capacity and meet capital adequacy requirements in accordance with the Law on Credit Institutions.
Thus, after completing the charter capital increase, VPBank will become the private commercial joint stock commercial bank with the highest charter capital in the industry.