Mr. Pham Hong Duong – Member of the Board of Directors of Thanh Thanh Cong – Bien Hoa Joint Stock Company (HOSE: SBT) has just sold over 4 million SBT shares during the period from August 24 to September 15, reducing his ownership to 0.045%.
Previously, Mr. Pham Hong Duong registered to sell 4.3 million SBT shares, but only withdrew over 4 million shares (because he did not sell odd-lot shares for the remaining quantity).
Based on the price of 20,950 VND/share in the period from August 24 to September 15, the deal is estimated to be worth about VND 84 billion. Accordingly, the leader lowered his ownership to 286,380 shares (0.045% of capital).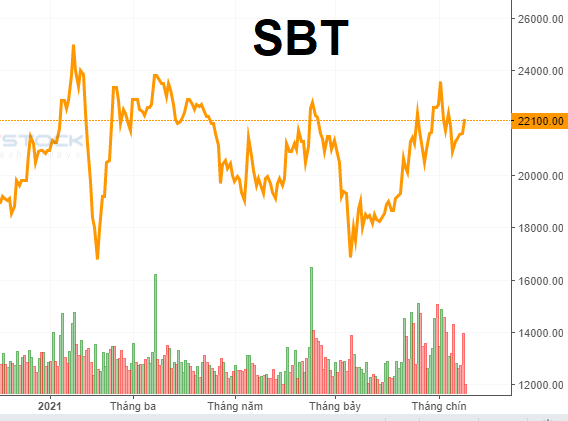 In the opposite direction, Ms. Doan Vu Uyen Duyen – Standing Deputy General Director bought 6 million shares of SBT from August 27 to August 13. Ms. Duyen accordingly increased her ownership from 0.15% to 1.08%.
On HOSE, SBT's market price recorded a positive increase of 30% since the last bottom made on 12/07. At the beginning of the afternoon session of September 20, SBT is being traded around 21,950 VND/share.
Regarding the financial situation, SBT ended the year from July 1, 2020 to June 30, 2021 with revenue and net profit growing by 16% and 84%, reaching VND 14,902 billion and VND 669 billion, respectively.
In mid-June 2021, the Ministry of Industry and Trade issued Decision 1578/QD-BCT on the application of anti-dumping tax (CBPG) and anti-subsidy tax (CTC) on some cane sugar products originating from Thailand. Lan with a total tax rate of 47.64%. This will help domestic producers (including SBT) have a competitive advantage in price compared to imported sugar products.